Careers
We are a team of like-minded event-goers and technology advocators.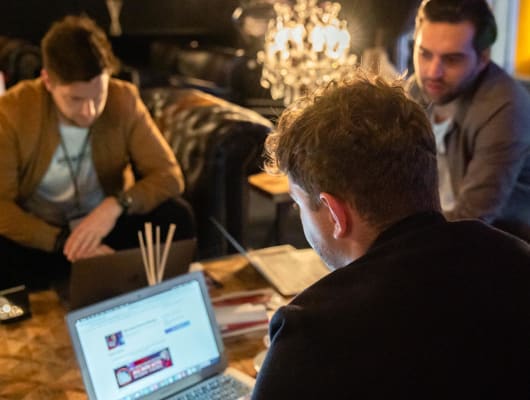 If you'd like to join one of Asia's fastest-growing event services' start-ups, love solving problems, are creative, driven and have a can-do attitude, you'll fit right in. Take a look at some of our current vacancies below.
Current
Vacancies
We are always on the lookout for talented people to join our growing team of super-stars.
We have a company culture that:
Provides Opportunity
To grow personally and professionally, work on exciting projects and be involved across the whole business.
Is Flexible
We don't work 9-5, and encourage a healthy work-life balance.
Nurtures Talent
When you grow, so do we. We offer training, mentoring and personal development to push us all to the next level.
Provides the Best
From our stand-alone GEG office in K-Town, Hong Kong to brand new Apple work machines. We won't slow you down with out-dated tools and machines.
Makes a Difference
We are a young, forward-thinking start-up who utilises technology and innovation to change the way we and our clients do business.
Head of Marketing - Applications Closed
Full Time
hong kong
remote
marketing
We are looking for a Head of Marketing to launch, plan and manage our marketing roll-out in 2019. Working from our Hong Kong office or remotely, we welcome applications from marketing professionals who have an event, ticketing or online systems background and can demonstrate a proven track record of launching and managing marketing campaigns.
View Details
Client Services Manager - Applications Closed
full time
hong kong
client services
We are looking for a Client Services Manager to establish and cultivate relationships with key company clients. Working from our Hong Kong office we welcome applications from Account Management, Client Services and Customer Services professionals who have experience in effective client management and a proven track record for successfully managing client and company objectives.
View Details